It's 1945, and the world is in the grip of war.Hideki lives on the island of Okinawa, near Japan. When WWII crashes onto his shores, Hideki is drafted into the Blood and Iron Student Corps to fight for the Japanese army. He is handed a grenade and a set of instructions: Don't come back until you've killed an American soldier.
Ray, a young American Marine, has just landed on Okinawa. He doesn't know what to expect — or if he'll make it out alive. He just knows that the enemy is everywhere. Hideki and Ray each fight their way across the island, surviving heart-pounding ambushes and dangerous traps. But when the two of them collide in the middle of the battle, the choices they make in that instant will change everything.
Pennies for Hitler by Jackie French
It's 1939, and for Georg, son of an English academic living in Germany, life is full of cream cakes and loving parents. It is also a time when his teacher measures the pupils' heads to see which of them have the most 'Aryan'- shaped heads. But when a university graduation ceremony turns into a pro-Nazi demonstration, Georg is smuggled out of Germany to war-torn London and then across enemy seas to Australia where he must forget his past and who he is in order to survive. Hatred is contagious, but Georg finds that kindness can be, too.
Blitz is set in World War Two, when Martin is evacuated to Winchester. However, he hates it there, and manages to find his way back home to London. But home isn't where it used to be - a bomb has exploded in his street, leaving him homeless. He decides to return to the country, but truly unexpected events start to unfold before he manages to reach his destination.
The Boy in the Striped Pyjamas by John Boyne
Nine-year-old Bruno knows nothing of the Final Solution and the Holocaust. He is oblivious to the appalling cruelties being inflicted on the people of Europe by his country. All he knows is that he has been moved from a comfortable home in Berlin to a house in a desolate area where there is nothing to do and no one to play with. If you do start to read this book, you will go on a journey with a nine-year-old boy called Bruno. And sooner or later you will arrive with Bruno at a fence.
Number the Stars by Lois Lowry
It is 1943 and for ten-year-old Annemarie Johansen life is still fun - school, family, sharing fairy stories with her little sister. But there are dangers and worries too - the Nazis have occupied Copenhagen and there are food shortages, curfews and the constant threat of being stopped by soldiers. And for Annemarie the dangers become even greater... her best-friend Ellen is a Jew. When Ellen's parents are taken away to be 'relocated' by the Nazis, Ellen is taken in by Annemarie's parents and suddenly Annemarie's family are under threat too. Annemarie has to call upon all her resources for courage and bravery as she helps her friend make a daring escape.
Vinnie's War by David McRobbie
Just then came: crump, CRUMP, CRUMP! Three bombs in quick succession, coming frighteningly close. With each explosion, the ground shook. Dust and chips fell from the ceiling. Everyone in the shelter gasped at the same time. Vinnie held his breath, waiting for the fourth bomb, but it didn't come. When Vinnie is sent away from the bombs in London, he has no idea what awaits him. All he has left of his old life is his harmonica. On the train, Vinnie meets fierce Kathleen, sweet Joey and gangly Dobbs. The evacuee children find themselves thrown together in the country town of Netterfold, which seems beautiful and peaceful - until they meet the locals. There is a war raging across Europe, but Vinnie and his friends soon find they have their own war to fight as they face up to terrifying teachers, bad billets, and hostile neighbourhood kids who set out to make their lives as 'vaccies' miserable. And when things start to go missing, they discover that there are mysteries lurking in Netterfold's shadows, just waiting to be solved.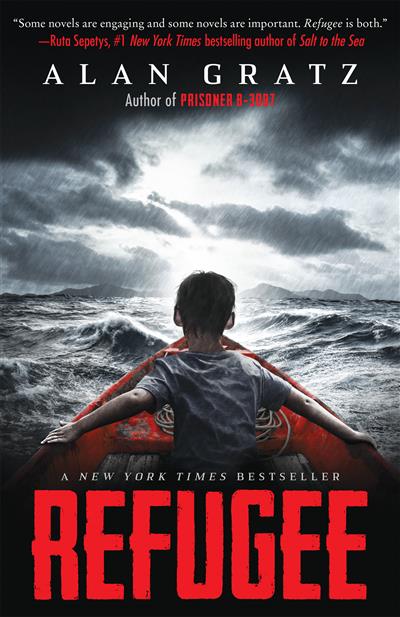 Although separated by continents and decades, Josef, a Jewish boy livng in 1930s Nazi Germany; Isabel, a Cuban girl trying to escape the riots and unrest plaguing her country in 1994; and Mahmoud, a Syrian boy in 2015 whose homeland is torn apart by violence and destruction, embark on harrowing journeys in search of refuge, discovering shocking connections that tie their stories together.
The Diary of a Young Girl by Anne Frank
In Amsterdam, in the summer of 1942, the Nazis forced teenager Anne Frank and her family into hiding. For over two years, they, another family and a German dentist lived in a 'secret annexe'. All that time, Anne kept a diary. This diary is the record of tension and struggle, adolescence and confinement, anger and heartbreak.
The War that Saved My Life by Kimberly Brubaker Bradley
An exceptionally moving story of triumph against all odds, set during World War II.
Nine-year-old Ada has never left her one-room flat. Her mother is too humiliated by Ada's twisted foot to let her outside. So when her little brother Jamie is shipped out of London to escape the war, Ada doesn't waste a minute-she sneaks out to join him.
So begins a new adventure for Ada, and for Miss Susan Smith, the woman who is forced to take in the two children. As Ada teaches herself to ride a pony, learns to read, and watches for German spies, she begins to trust Susan-and Susan begins to love Ada and Jamie. But in the end, will their bond be enough to hold them together through wartime? Or will Ada and her brother fall back into the cruel hands of their mother?
The Auslander by Paul Dowswell
When Peter's parents are killed, he is sent to an orphanage in Warsaw, Poland. But Peter is Volksdeutscher-of German blood. With his blond hair and blue eyes, he looks just like the boy on the Hitler Youth poster. The Nazis decide he is racially valuable. Indeed, a prominent German family is pleased to adopt such a fine Aryan specimen into their household. But despite his new "family," Peter feels like a foreigner-an ausländer-and he is forming his own ideas about what he sees and what he's told. He doesn't want to be a Nazi. So he takes a risk-the most dangerous one he could possibly choose in 1942 Berlin. . . .
One in five never returned.
Every boy dreams of flying, but in war that dream can turn into a nightmare. Harry Friedman is the gunner of the Macey May, an American Flying Fortress stationed in East Anglia. The Second World War is raging and the Nazis have swept over Europe. The crews of every Flying Fortress face terrible odds on their bombing missions. To make it through alive, Harry will need luck on his side and courage...Courage to keep going when he has watched close friends die. Courage to confront a terrible evil. And the courage to make it home from deep behind enemy lines.
When Australia throws its support behind Britain in its fight against Germany, young teacher Stan Moore is one of the first to join up, swapping the classroom for adventure in Europe. But the 11th Battalion is sent with the newly formed Anzac Corps to Gallipoli, where Stan is confronted by the hard lessons of war.