Skip to Main Content
It looks like you're using Internet Explorer 11 or older. This website works best with modern browsers such as the latest versions of Chrome, Firefox, Safari, and Edge. If you continue with this browser, you may see unexpected results.
---
Books Adapted to Screen
The Books adapted to Screen lesson sparked so much interest and conversation that we added stickers to the books that have had adaptions made indicating where they are currently available to view, and created this display.
---
R U OK?
---
Science Week 2022
This year's theme was 'Glass: More than meets the eye', and in conjunction with the Science Department, numerous events and competitions were held across the three Libraries.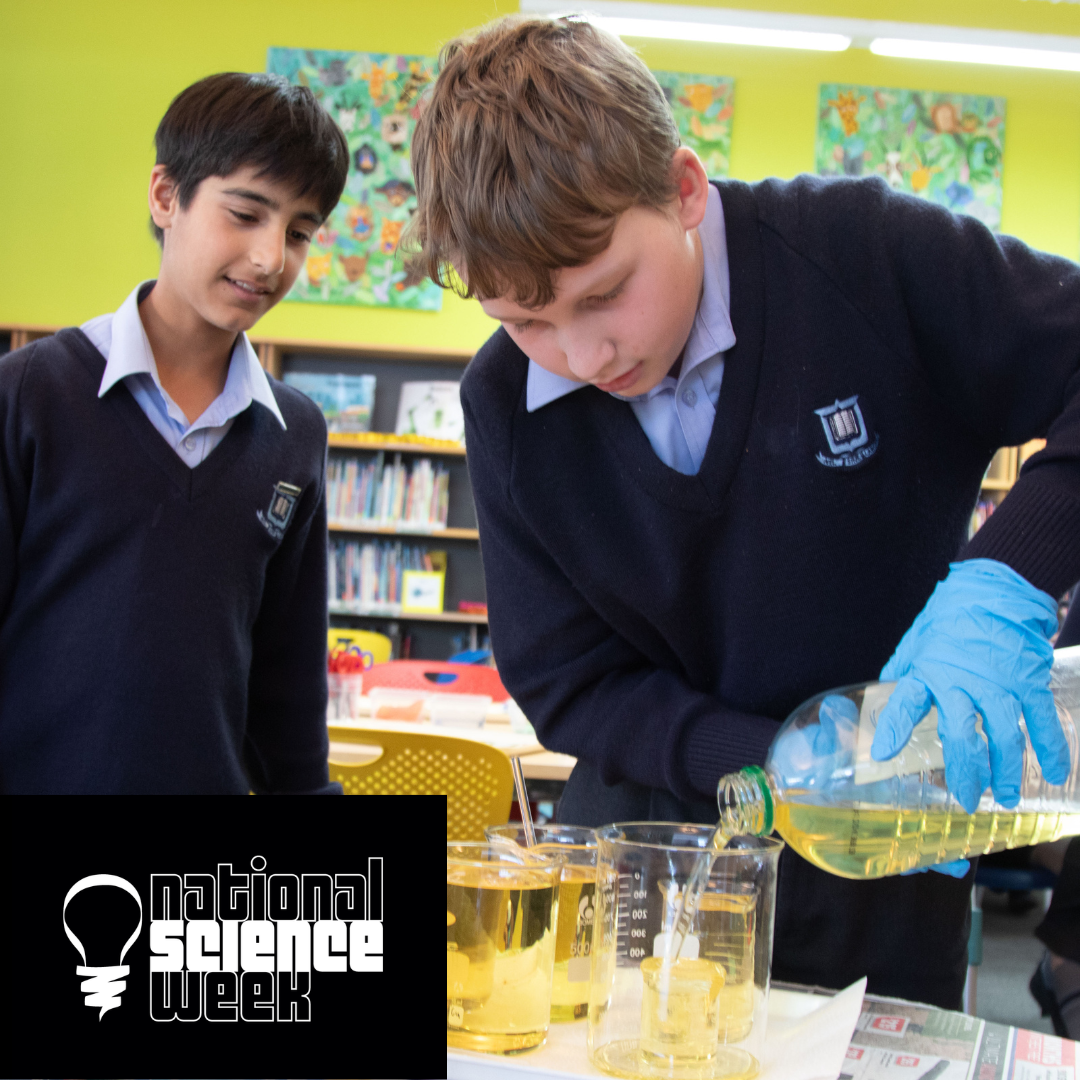 ---
Tension during the US Open
Boys in the Centenary Library watching on in suspense as Aussies Kyrgios and Kokkinakis compete in the men's doubles!
---
Year 12 Assessment Preparation
The Year 12's have begun their two week period of assessment preparation… lot's of study, collaboration and revision happening throughout the Senior Library!
---
Books to Screen
The boys were asked to discuss what makes a movie adaption work (or not) and the differences between a book and its screen adaption. There were many passionate opinions on this topic! A lot of great recommendations were made, including @shadowandbone (Netflix); @alexridertv (Prime) and @oneofusislyingpeacock (Stan). We love that these series are generating such interested and demand for their book counterparts!
---
Making Connections
Year 5 boys in the Middle School Library have been focusing on elements of what good readers do. A crucial part of this is the ability to "make connections" – and these can be either "text to self", "text to text" or "text to world".

Boys were tasked with identifying at least one type of connection from a chapter and these ideas were then linked together to form a paper chain. It is amazing to see the number of connections that can be identified within one book chapter.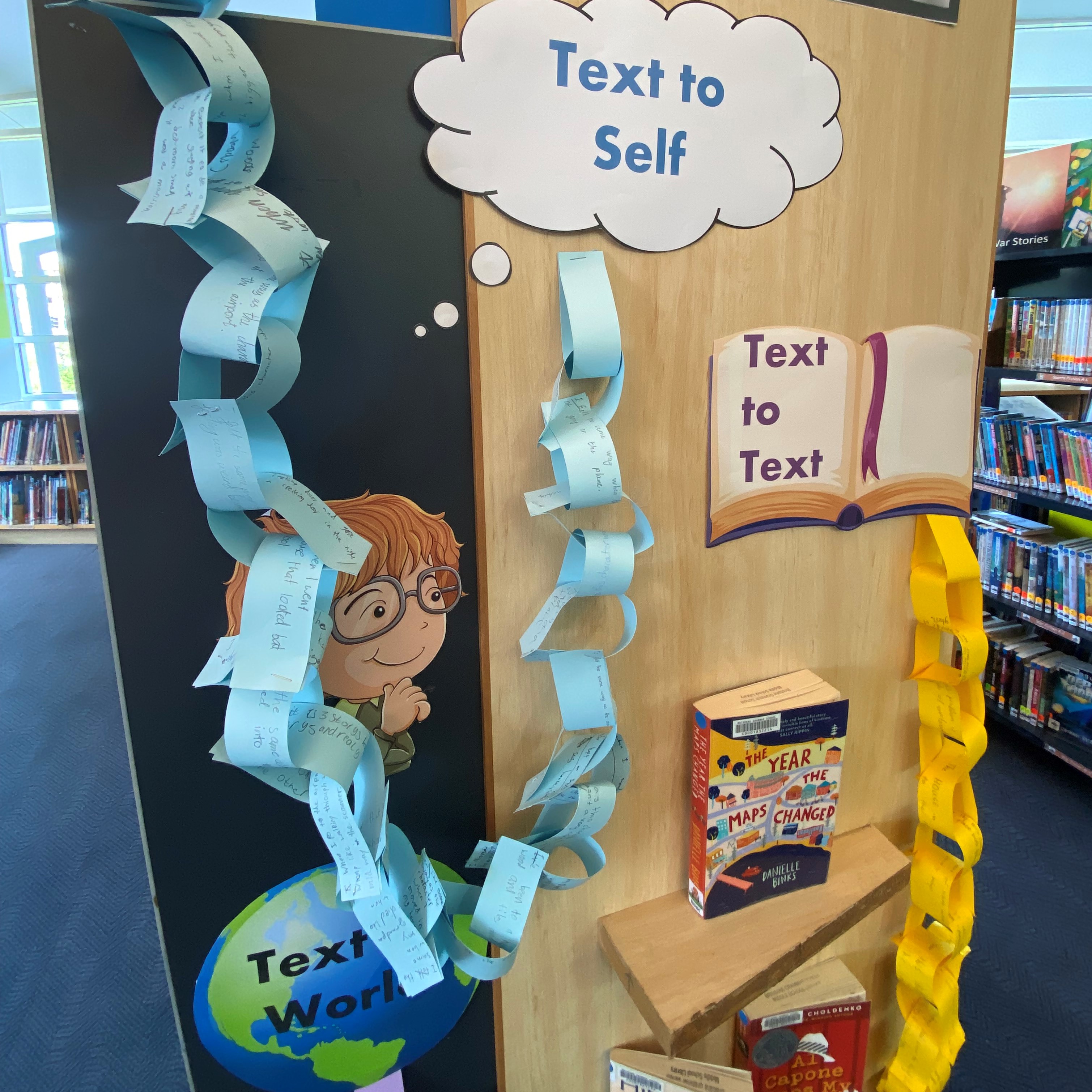 ---
Photography Competition Winners 2022
Thank you to everyone who submitted their entries into the BGS Library Photography Competition over the past couple of months, and a special thank you to our esteemed judge Mr Maxim Varghese. We are excited to announce this year's winners:
Middle School, Year 8 Nicholas Bade with "Star Trails"

Senior School, Year 12 Mitchell de Groot with "A Cyclone of Lights"

Staff, Mr Dean Littlefair with "Morning Flight".
There were dozens of fantastic and inspiring entries, and these were all showcased across screens throughout the School generating much anticipation of the results!
---
The Great Gatsby
As Year 11 English embarks upon studies of this classic text, we thought we'd set the scene in the Library...
---
Map Making
When students teach students at the Centenary Genius Bar lunchtime sessions.
---
Rubik's Race Competition
Congratulations to our winner Ramtino Sandroan who proved too strong for the competition. A big thank you goes to Leo Koch in 5C who first pitched the idea, and then designed the posters and organised the running of the event.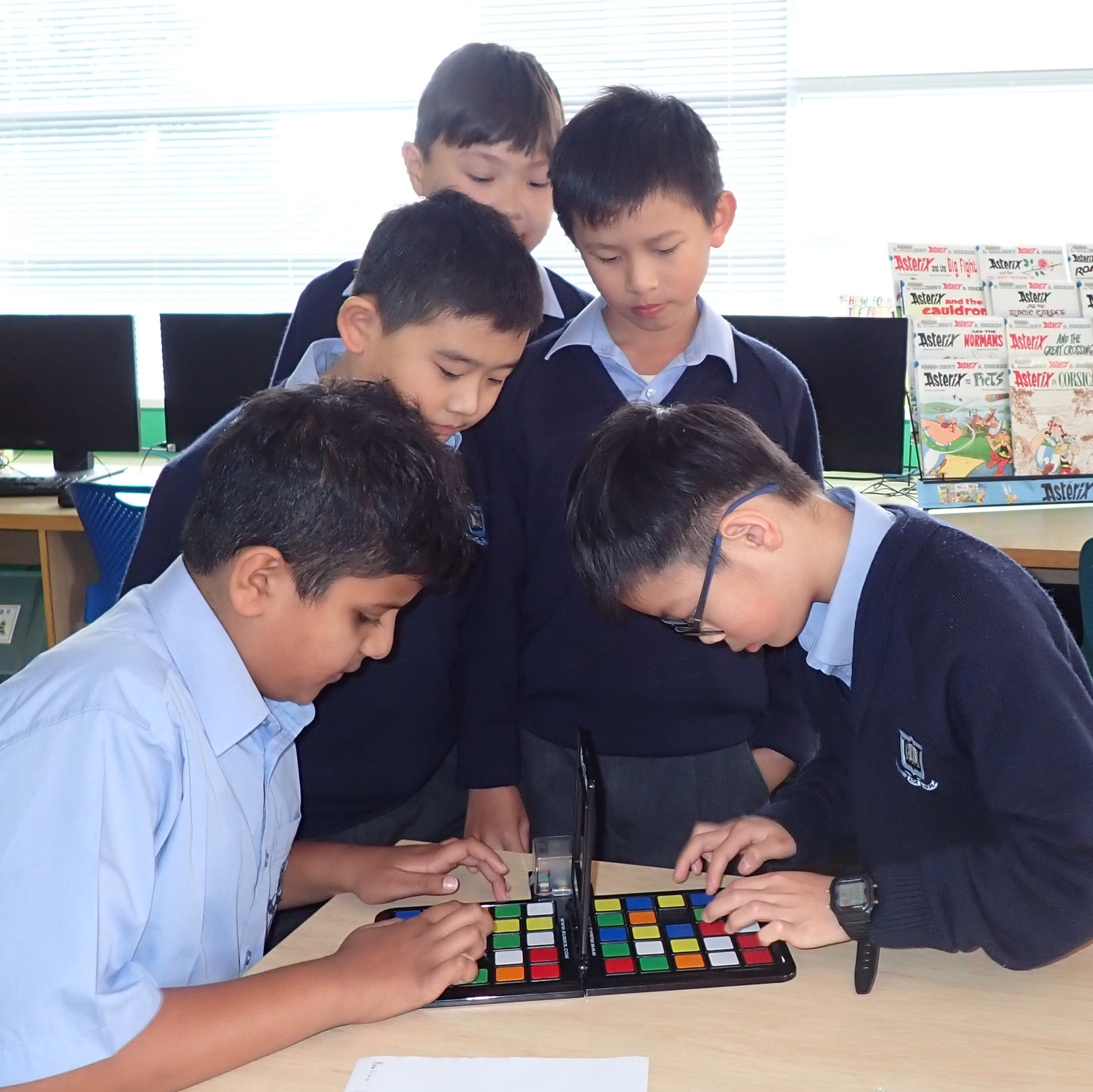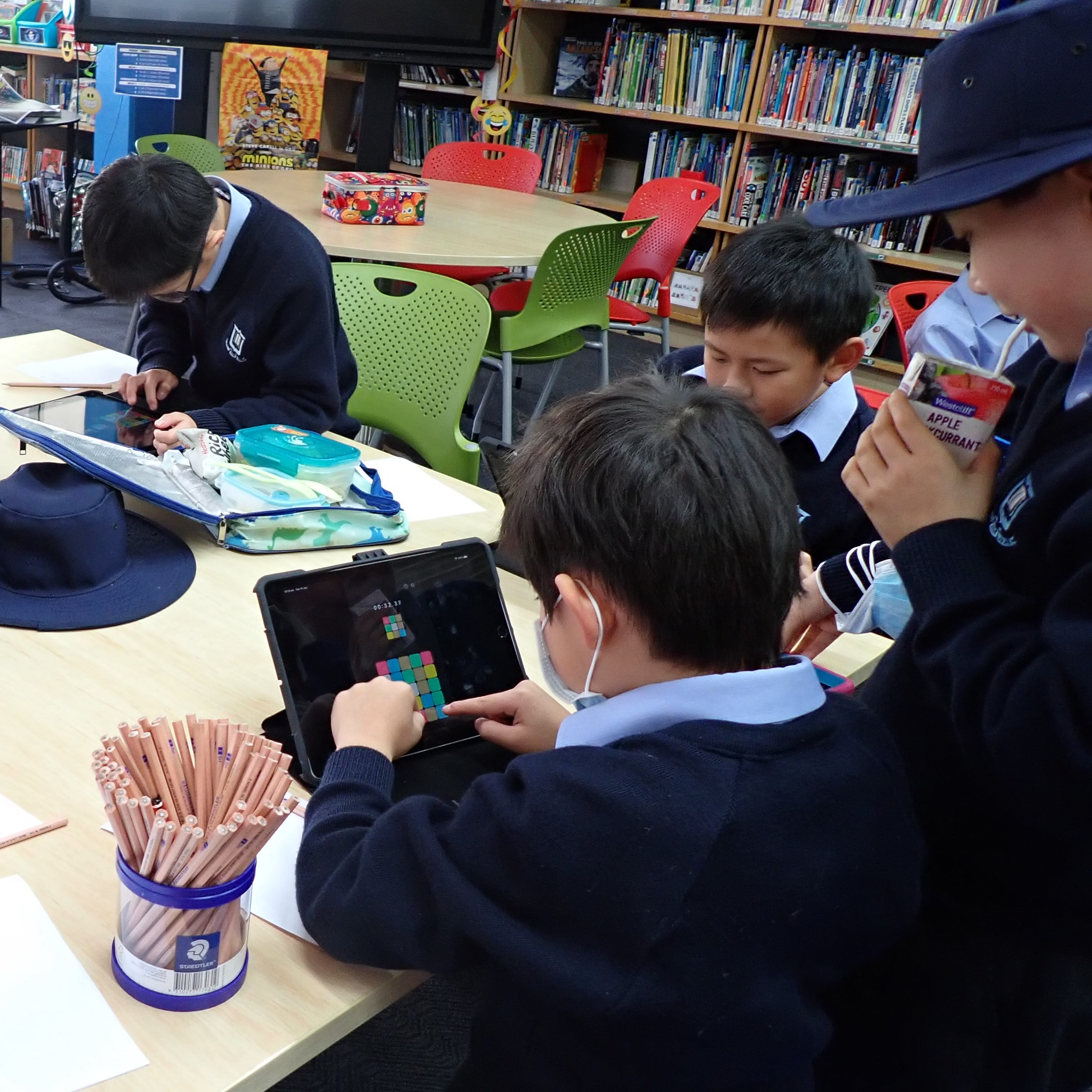 ---
Winter Warmers
At the end of term, BGS staff received winter postcards bound with a chocolate treat and recommended holiday reads to cosy up with ❄️🧣🧦
---
Reading and Relaxing
During the last week of Term Two, the Year 8 boys came in to borrow for the holidays and get some quiet reading in. A nice peaceful time after what was such a busy and eventful term!
---
Push Up Challenge
Library staff set up "Push Up Stations" marked at several areas around the libraries.
reach our daily quota! See our Instagram Stories to see videos of the boys and library staff pushing the books!
---
Mechatronics - on the Library wall
No, it's not graffiti, it's just the mechatronics club getting carried away on the glass windows of the group study rooms!
---
School Captains' Significant Books
See our Captains' Corner page if you'd like to know why they chose these titles.
---
25 Years with Mr Hills
In 1997, Mr Hills undertook his final practical placement at BGS for his library qualification and, once his studies were completed, he was hired to join the Library team. It is the positive human connections that make all the difference, says Mr Hills. No matter how difficult the day or situation, the times where you can help a student or staff member or provide that sense of community is what makes it all worthwhile. Mr Hills has also witnessed the digitisation of records, and the development of ebooks, audiobooks, databases and online research guides. When asked about his thoughts on libraries today and into the future, Mr Hills recognises that the librarian's role is even more vital today than it once was. He says, "the librarians' role hasn't changed, it has broadened. We are still in the midst of a major transition in the information age, and librarians are still needed as gatekeepers".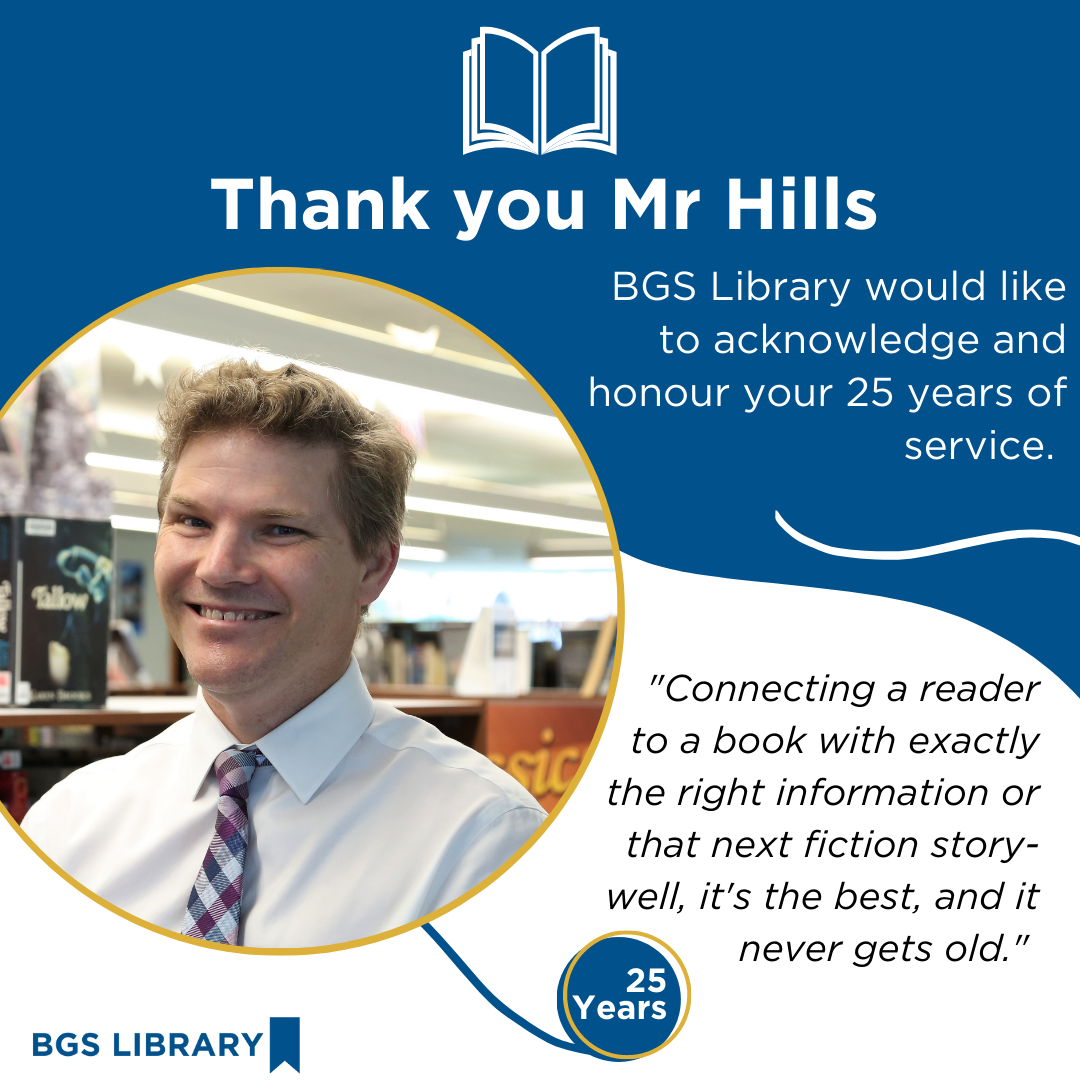 ---
Browsing Non-Fiction
The new "Dynamic Shelving" making non-fiction more accessible and easier to browse!
---
Photographs in the Mud
"Miss, we're reading a picture book!?" the boys in Year 6 exclaimed, insisting they were already too grown up! As they settled into the story of "Photographs in the Mud" by Dianne Wolfer & Brian Harrison-Lever, the boys kept an open mind. Many people don't realise that a wide range of picture books are in fact written for all ages- requiring the use of multiliteracies to gain meaning of a particular subject or idea.
The discussions that followed these initial comments were both an engaging and a valuable exploration and questioning around particular subjects that arose throughout the story.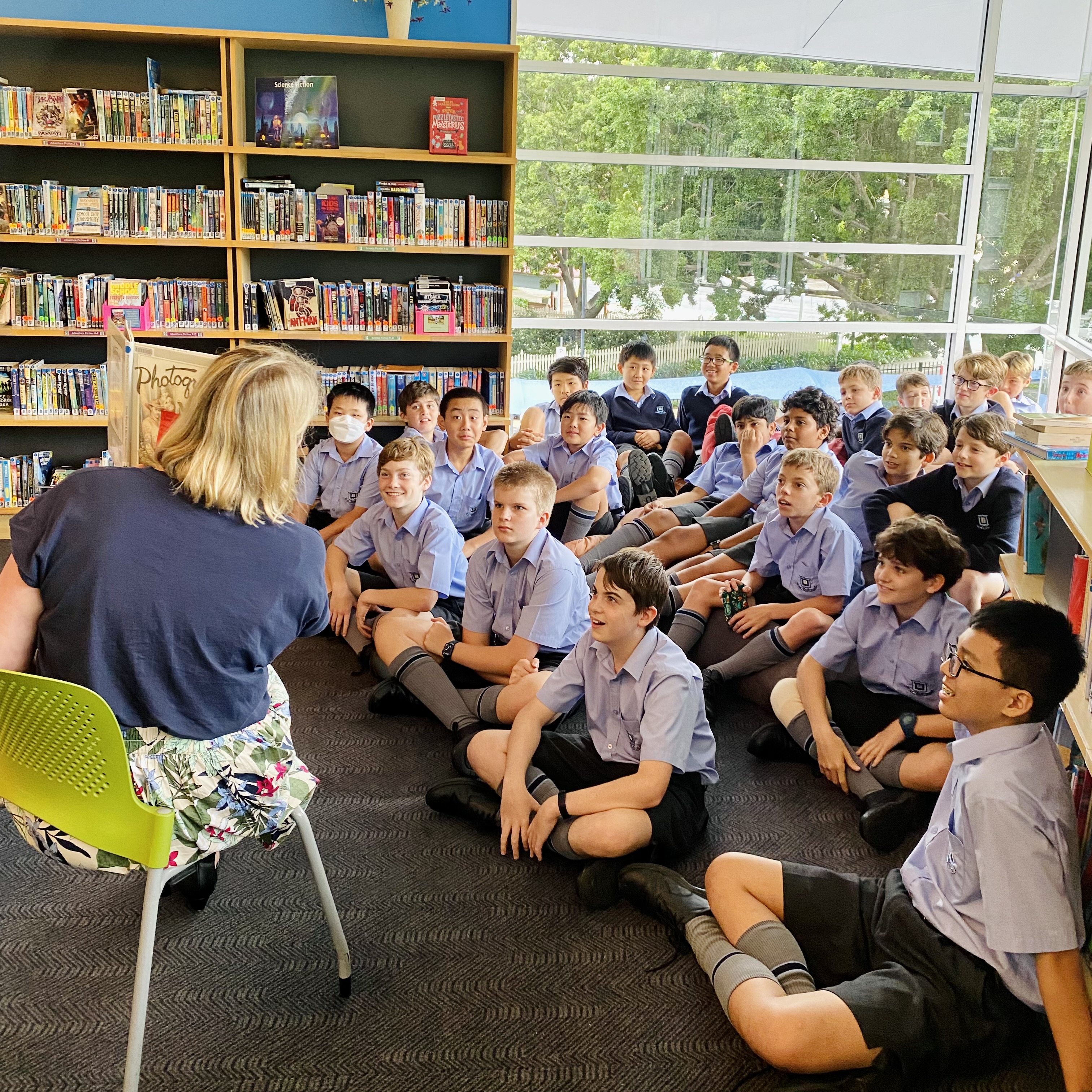 ---
BGS Open Day
We had a fantastic day on Saturday welcoming prospective families to tour the Library space and participate in all the fun activities including badge making, droid racing and stop-motion animation.
---
Board Game Appreciation
Every Friday in Break 2, Board Game Appreciation is running in the Middle School Library. There's loads of games to chose from and lots of fun to be had.
---
ANZAC Day
We honour the service and sacrifice of our veterans.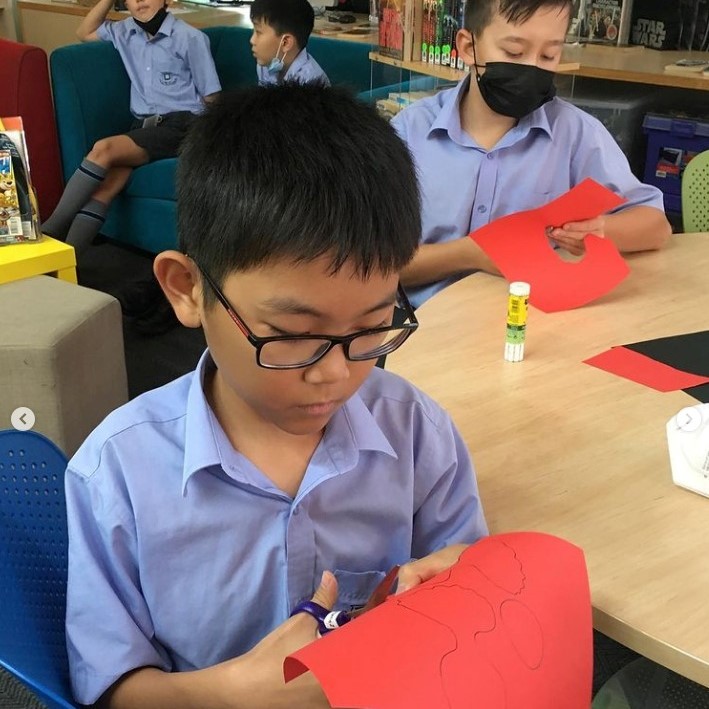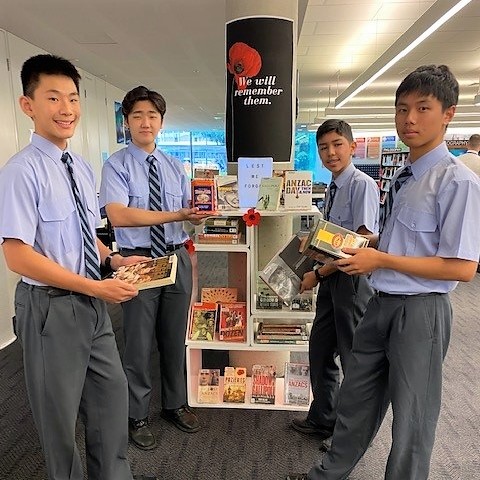 ---
Get borrowing for Easter!
---
Bullying NO WAY!
BGS supports the National Day of Action against bullying and violence. Come visit the library and see the displays of fiction and non-fiction books about resilience and actions against bullying.
See the ePlatform wellness library for eBooks!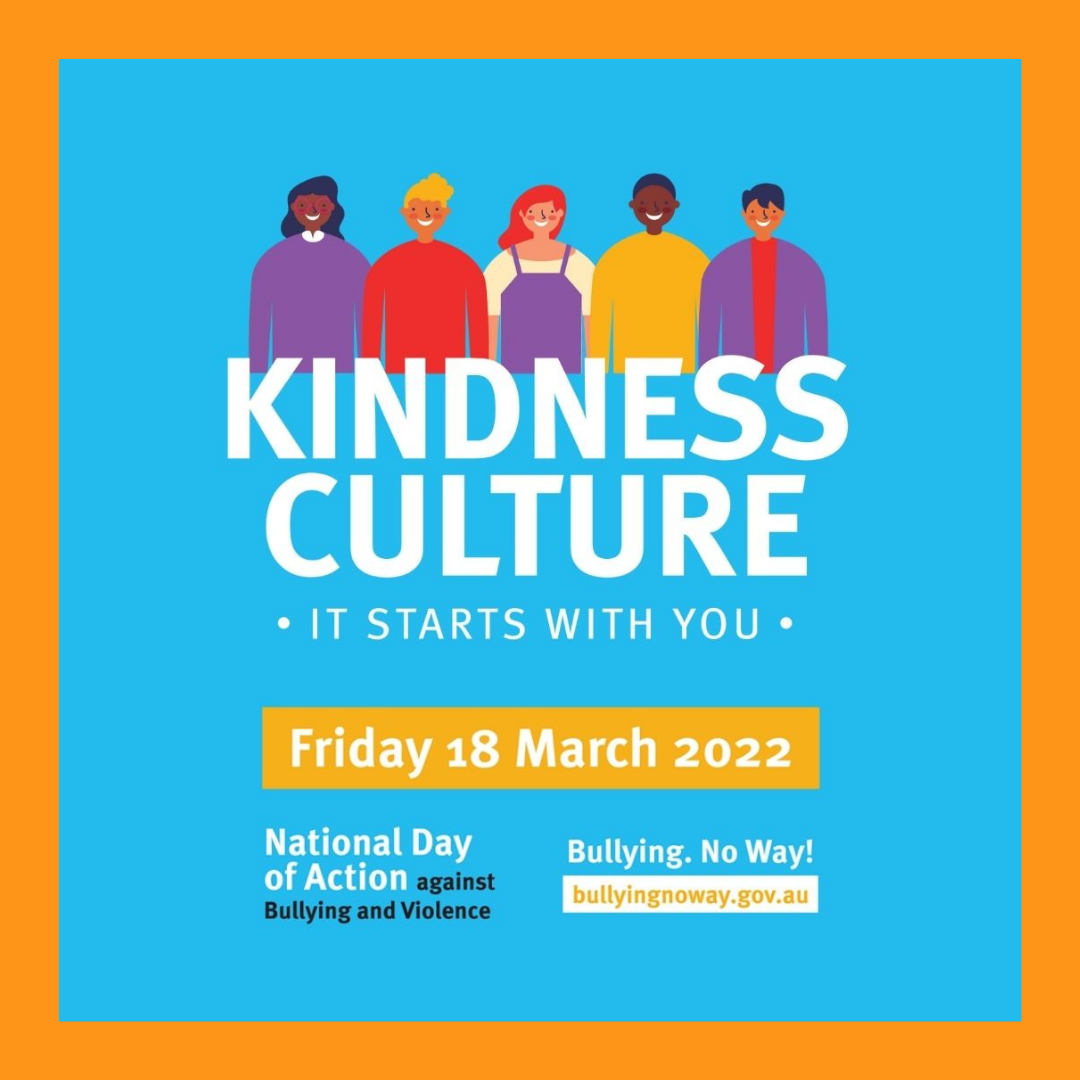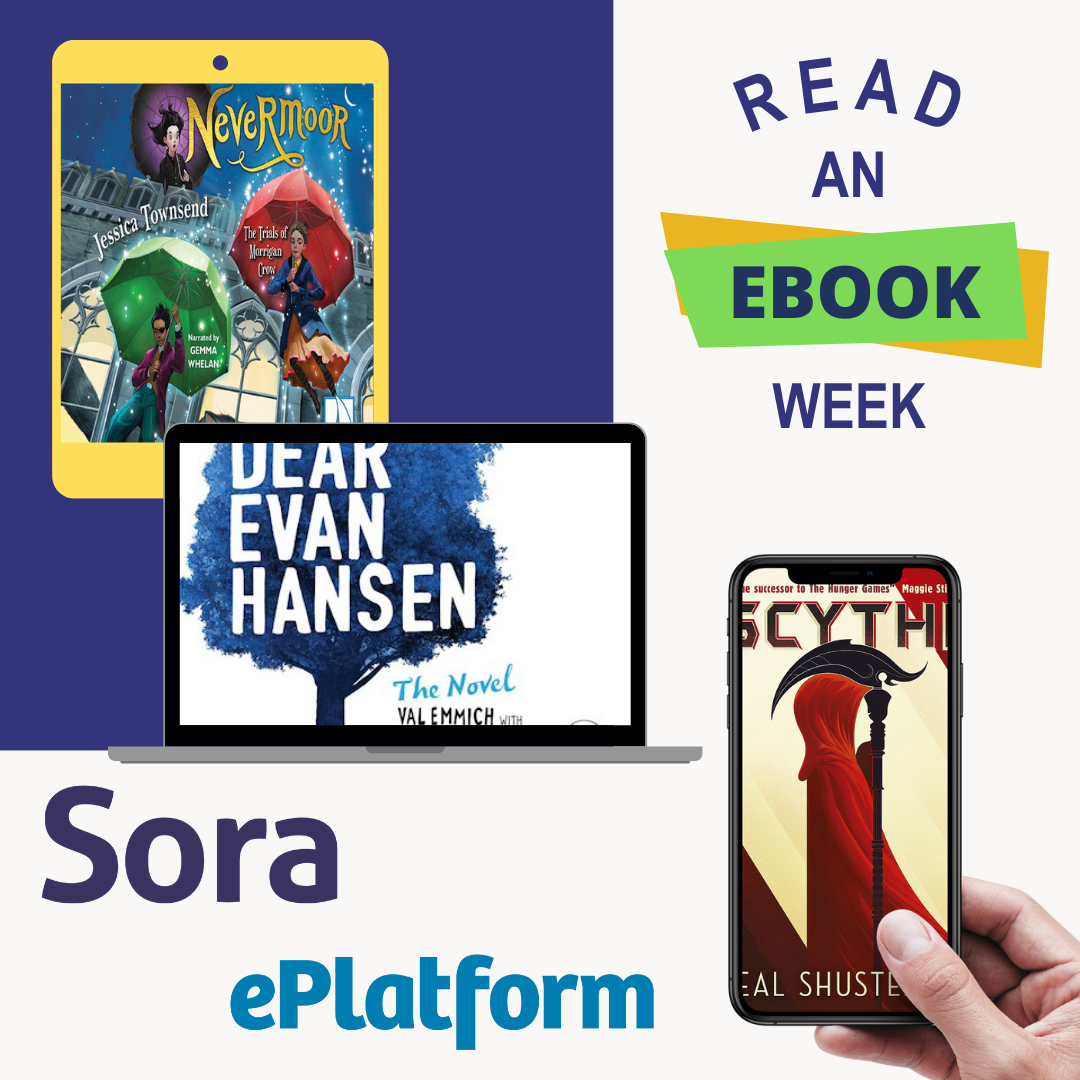 ---
Home Based Learning, Again
Keeping afloat during a natural disaster, Brisbane flood crisis March 2022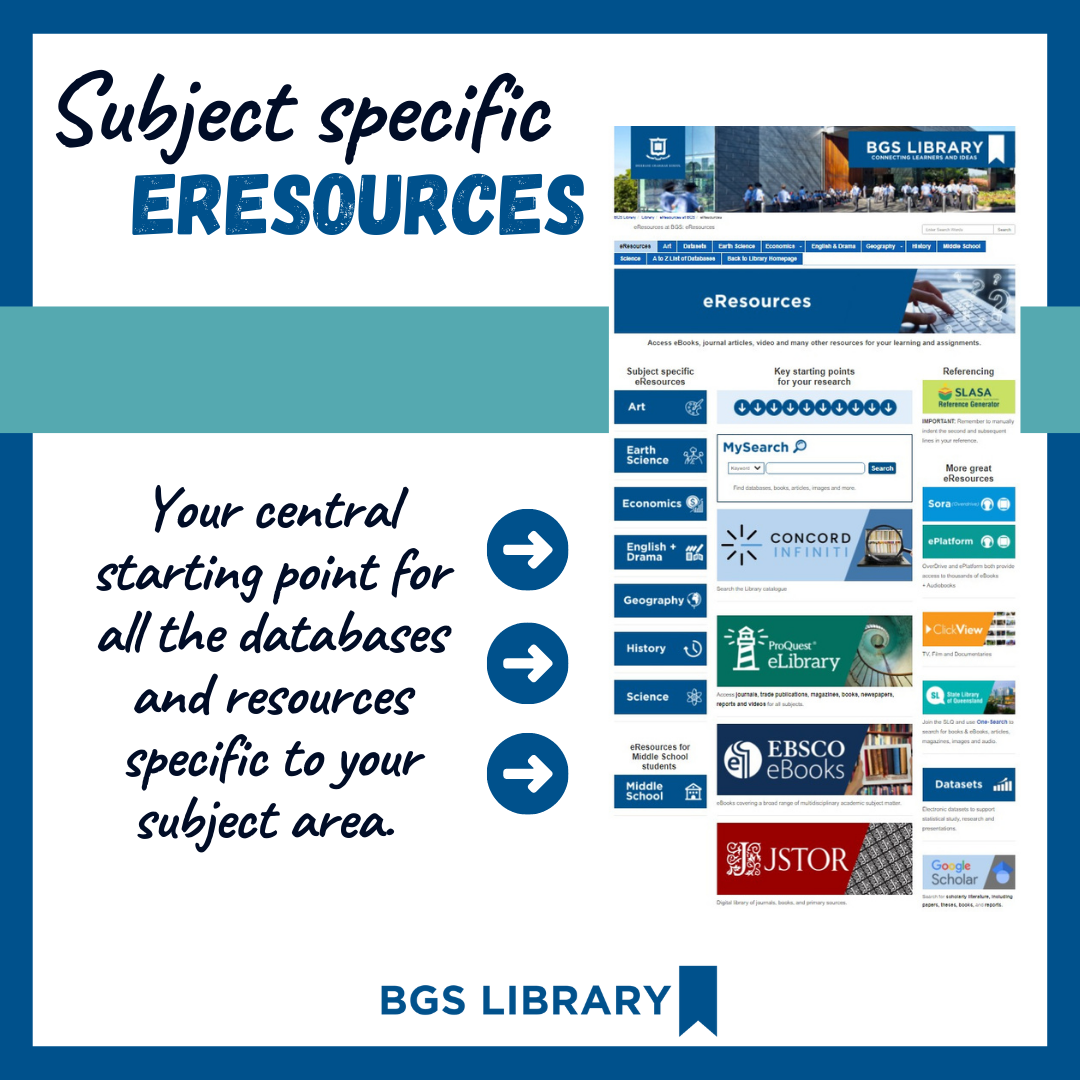 ---
Research Help with Science
Our Library staff play an integral part in developing students' research and information literacy skills. These skills are particularly critical for Science, as boys are required to find credible data sources to support their research claims. During their recent Science lessons, Year 10s were taught research and analytical skills in reading high-level academic journal articles specific to their upcoming assignment. Finding and interpreting relevant, credible data is challenging, which is why it is important to refine and build upon these skills, enabling the boys to apply them in each research task they undertake.
As a follow up to this lesson, Year 10 classes were invited to the Forum during Consolidation and Preparation time this week for the opportunity to have one-on-one research help. Our Library staff are always available to assist boys with locating and evaluating quality sources and creating in-text citations and referencing to support boys in becoming confident and independent researchers by the time they leave school.
Below are students' feedback from the sessions:
"I find these sessions useful when I am stuck trying to find the one little bit of data I am looking for. These sorts of sessions have helped me develop my searches to be able to find the data"
"quite productive and helpful"
---
Happy Library Lovers' Day!
Celebrating all the reasons we love our Libraries.
---
Wear it Purple
Every year thousands of schools, community organisations, universities and workplaces hold events across Australia for Wear It Purple Day – a movement of expression, celebration and support. The day focuses on our LGBTQIA+ youth and the issues they face, whilst showing them they have the right to be proud of who they are and who they are becoming.
---
Captains' Corner
A tradition spanning thirteen years of BGS School Captains photographed with books of significance to them. A great legacy as these photos are printed onto canvas and added to the walls of the Senior Library each year. Full descriptions of why the boys chose these books and links to the catalouge records can be found Here !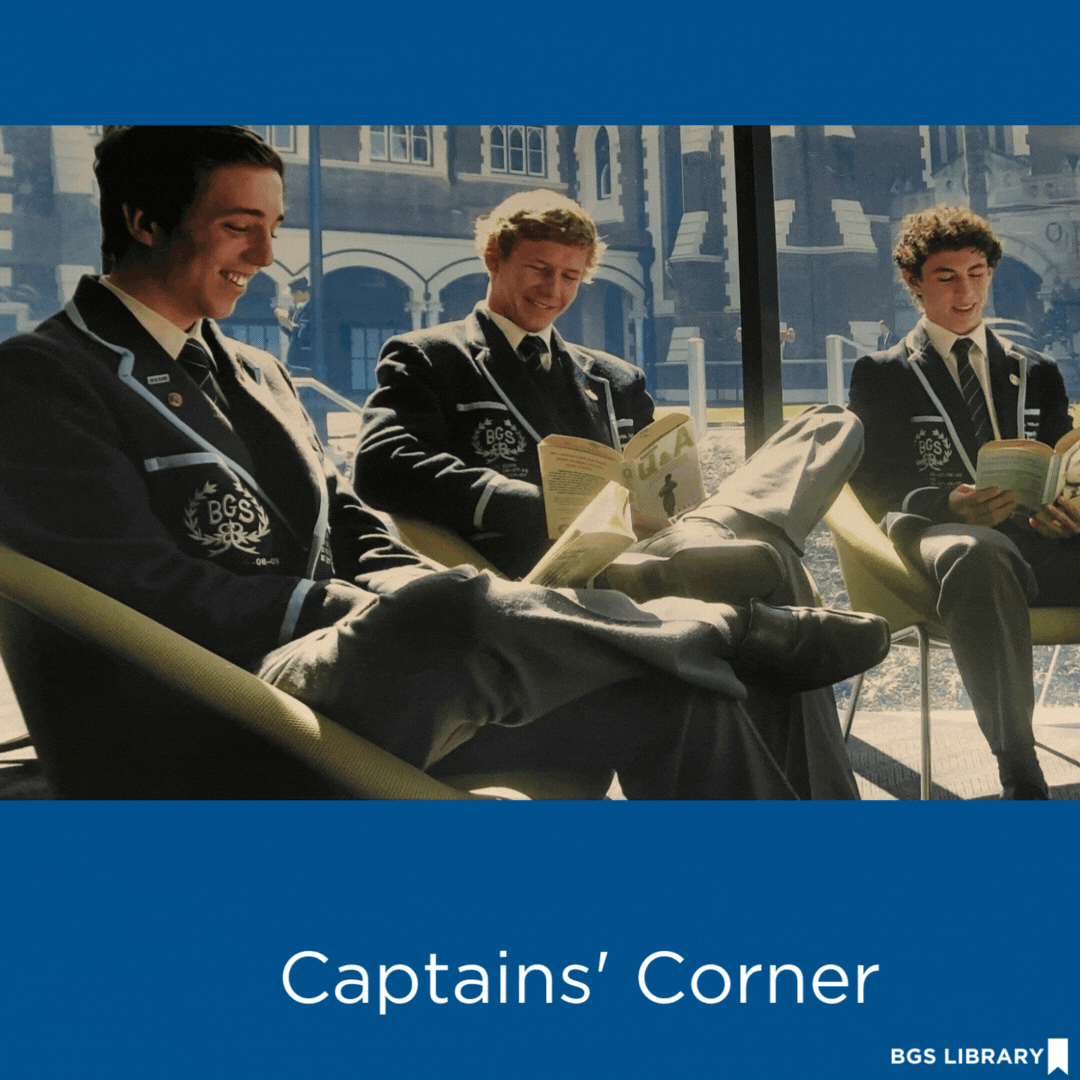 ---
Year 6 Literature
Year 6 boys are beginning a new literature activity this term which has been developed as an alternative to the traditional Literature Circles model. While groups will all read the same book, they will have access to an online padlet where they can post their insights about the book and any questions that arise.
---
Australian School Library Day
Thank you for your votes BGS!
---
Time to borrow...
5C discussed book covers; blurbs; and first sentences, and how they made connections with the books through these avenues. Then, it was time to borrow, and they were all very keen to get started on their reading!
---
Genrefied Fiction
Horror, Fantasy, Historical Fiction maybe? We wonder which genre bays these boys selected their books from… The Senior Library fiction collection has been "Genrefied" for over a year now, and we've never looked back! We have distinct sectioned bays for each genre, with corresponding shelving to match the appropriate genre spine labels. This means that the boys can browse at their leisure, for Fantasy; Science Fiction; Horror; Crime & Mystery; Australiana & Indigenous; Realistic Fiction; War; Classics; Historical Fiction and Short Stories.
---
Book Week Fun!
The Middle School had such a fun week celebrating Book Week, with so many events and activities on offer including origami; the Breakfast with author Pat Flynn; lunchtime Kahoot; Trivia Evening with Richard Yaxley; a Book Cover Competition; Book Bingo; and a Book/Movie Screening.
---
NAIDOC Week
Get Up! Stand Up! Show Up!
This annual event brings crucial attention, focus and celebration to culture, history and achievements of Aboriginal and Torres Strait Islander peoples.
---
Thinking of Studying Medicine?
To tie in with many of our Year 12 boys sitting the UCAT exam this July, we created a medical sciences display in the Senior Library. The UCAT exam allows guaranteed entry into some university degrees to study medicine. Thank you to the Old Boys who generously contributed words of advice and information about their experience in medicine and their chosen specialty.
---
Welcome to Term 3
---
Research in Term Two
All of these books and more, were used this term for research investigations… now that it's holidays, time to reshelve! 📚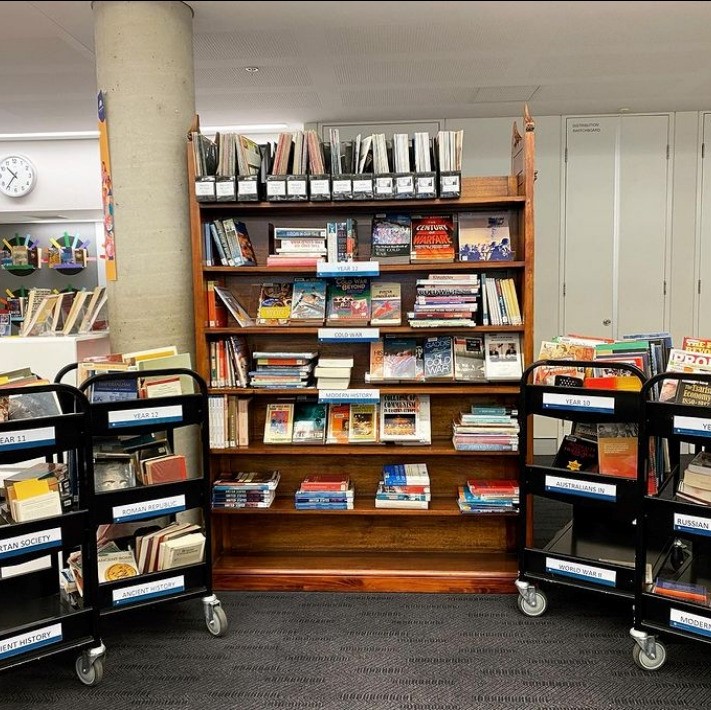 ---
Chopstick Challenge Winners
After a fast and intense three rounds, we finally had our winner and runner-up. A big congratulations to Lehan and Sensai Yamada!
---
Hall of Fame - Accelerated Reader
Congratulations to Kingsley and Max who are now on the Hall of Fame!
---
Pride Month
❤️🧡💛💚💙💜💖 June is Pride Month ❤️🧡💛💚💙💜💖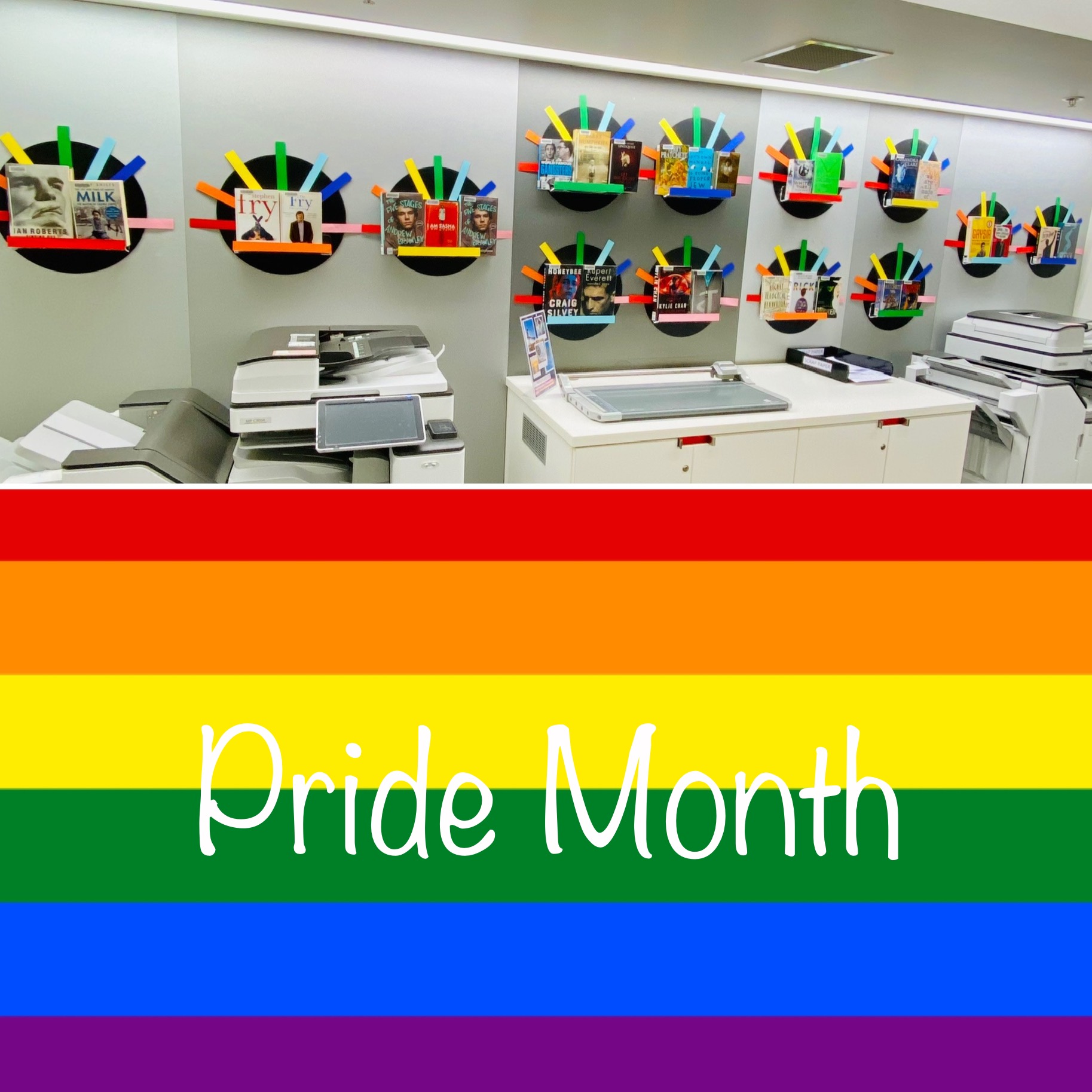 ---
Year 8 Advertising
This term the Year 8 boys have been reflecting on the ways in which advertising concepts learned in their English unit also relate to the techniques which publishers use to promote and market books.
Ethos – a sense of credibility, often from reviews by other notable authors or cover branding.

Pathos – an emotional appeal, often linked to colour and cover images.

Logos – an appeal to logic, for example how many copies have sold worldwide.

Kairos – a sense of urgency, such as how many signed copies are available if you buy now.
The boys used the Effective Thinking skills of identifying, evaluating, explaining and applying as they analysed book trailers to decide which techniques were most effective in promoting books, and participated in a one-minute book review competition to try to 'sell' a book they had read to other boys in the class.
Of course, the Library staff also tapped into these marketing techniques to promote books for the boys to borrow!
---
Year 5 and 6 "Reading Conversations"
The boys learn from their peers about their reading journeys as well as sharing their own experiences.
Teacher Librarians Ms Palmer and Mrs Lusink also actively help boys find books they want to read and discuss strategies that may help them develop their reading engagement.
---
National Sorry and Reconciliation Week
We remember and acknowledge the mistreatment of Aboriginal and Torres Strait Islander people who were forcibly removed from their families and communities, which we now know as 'The Stolen Generations'.
National Sorry Day is a day to acknowledge the strength of Stolen Generations Survivors and reflect on how we can all share in the healing process.
---
Year 7 Research Ancient Sites
Ms Smith working with the boys to introduce them to academic integrity; databases including ProQuest and Explora; referencing guides and saving sources.
---
May the Fourth Be With You
May the Fourth is a date firmly etched on Star Wars fans' calendars, and our Star Wars books continue to be popular reads for the boys. This week during lunch breaks, BGS Libraries offered engaging activities based around this theme. The boys created thumb doodles using pen and ink pads, raced droids, watched the story come to life on the screen and competed in trivia competitions!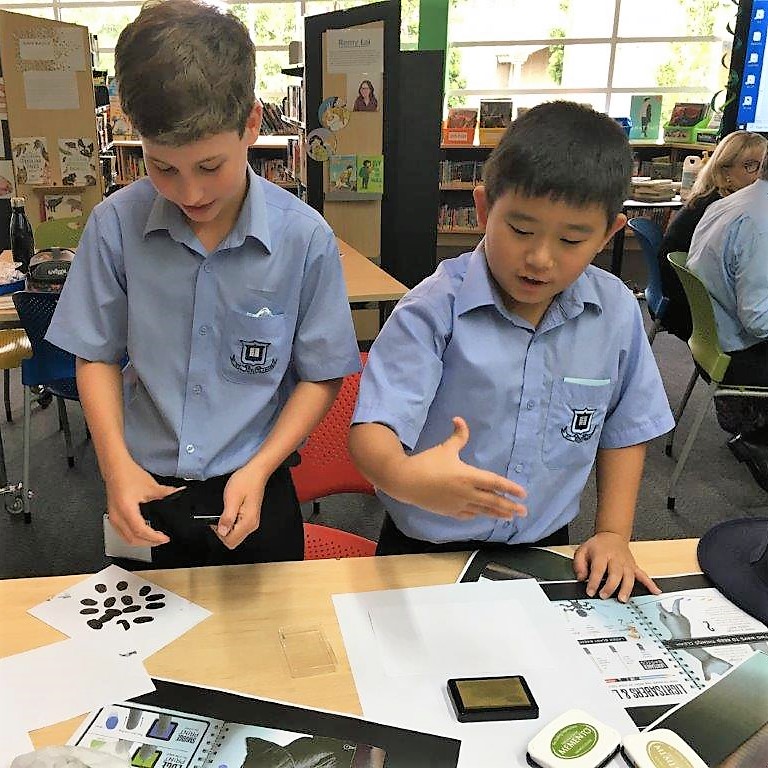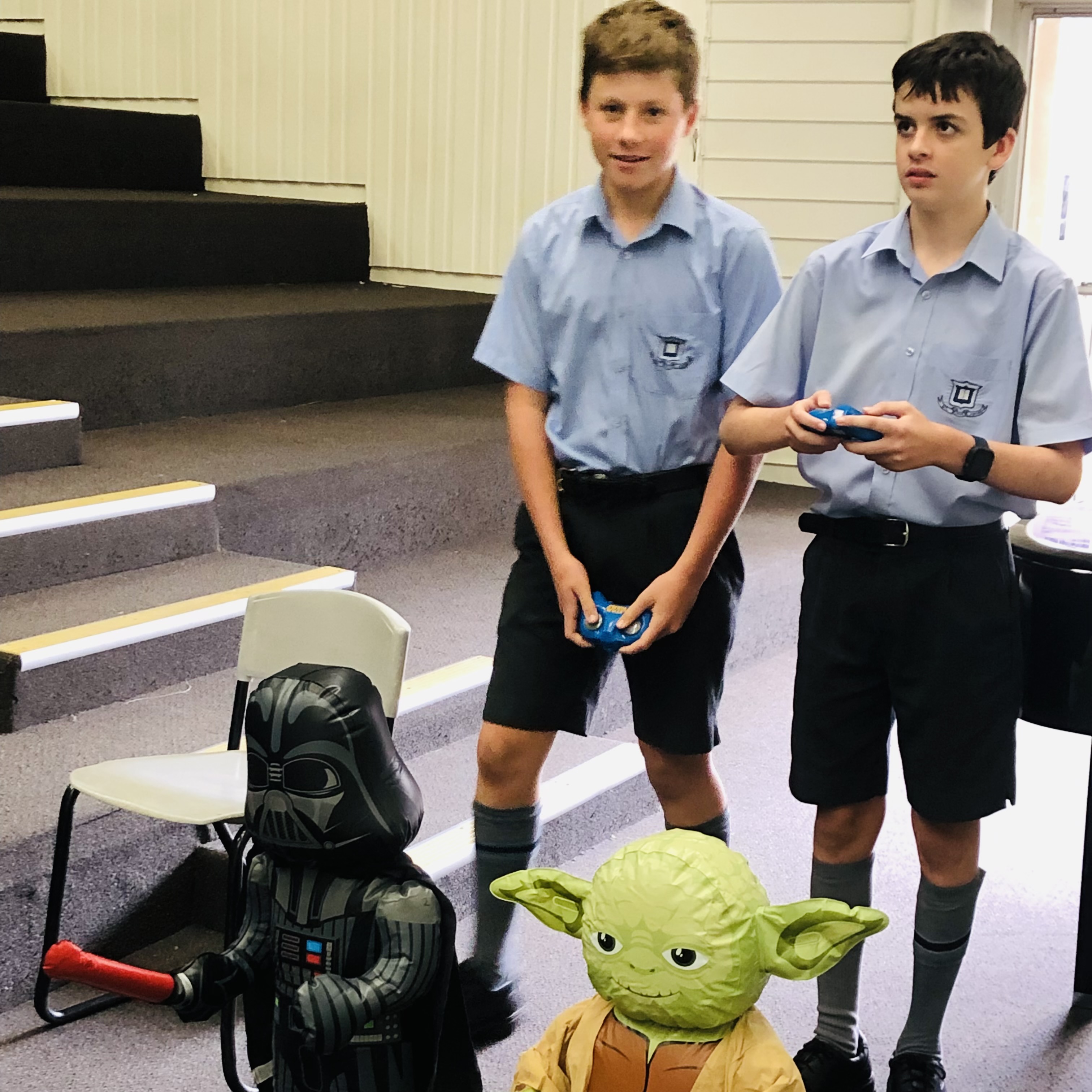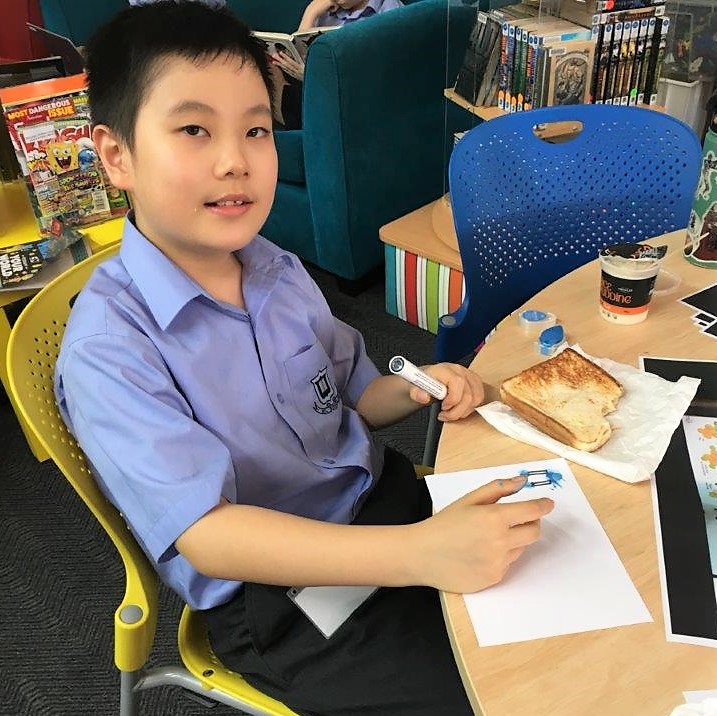 ---
What did you read these holidays?
---
Harmony Week
---
Science Fiction, Outside
Year 8's taking advantage of the beautiful weather while immersed in Science Fiction book discussions.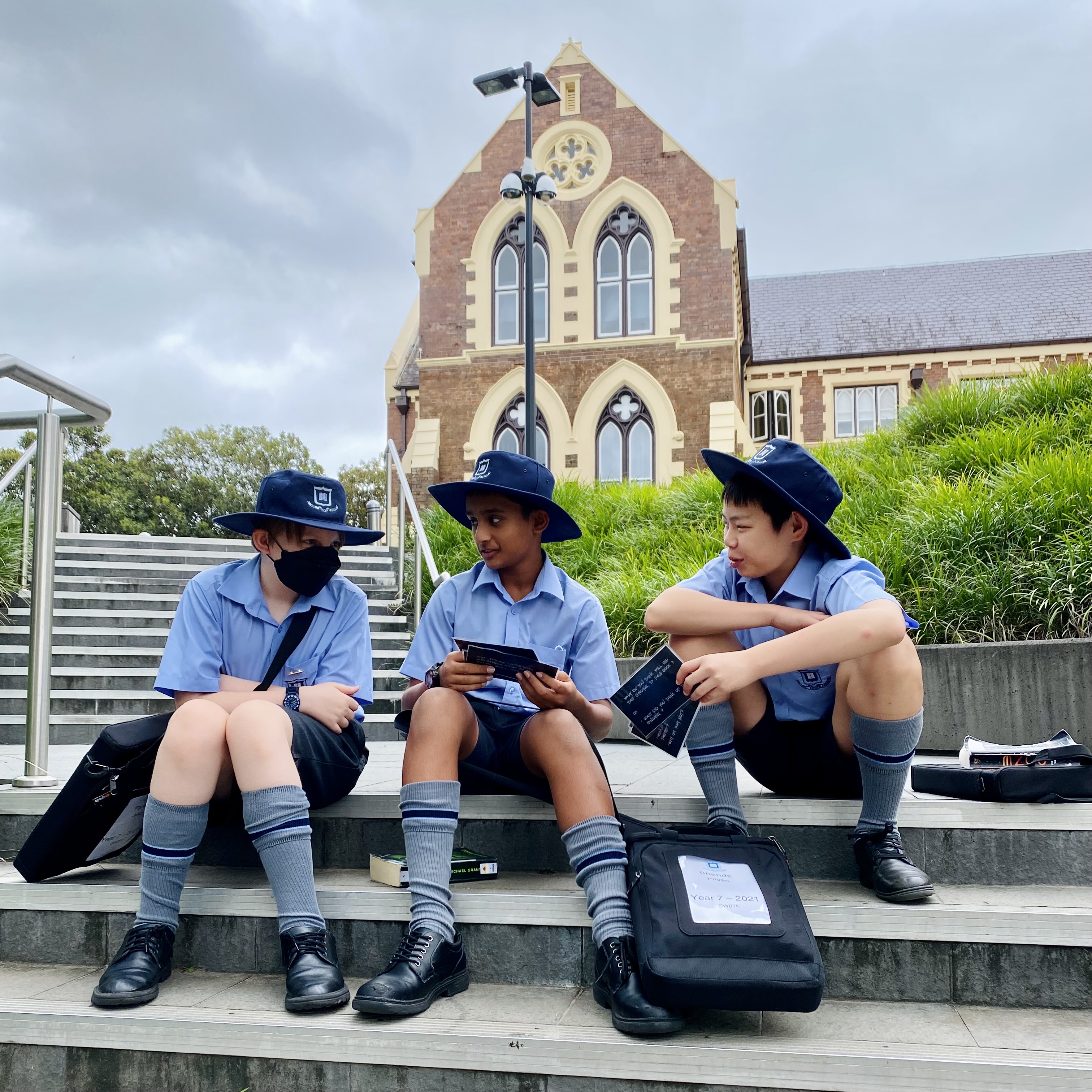 ---
The Water Tower
(by Gary Crew & Steve Woolman)
Year 8 boys have enjoyed unravelling this book in the lead-up to writing their own science fiction short story. Once they appreciated the significance of the circle symbol on everything related to water in the book, they were then surprised to find that they too had been 'infected' by drinking the water.
---
International Women's Day
Recognising Women in Literature
---
Feeding the World
We are kicking off 2022 by encouraging the boys to think about the future of feeding the world- particularly in terms of environmental sustainability. Could industrialised insect-farming be part of the solution?
---
Year 7 Centenary Library Orientation
A big welcome to the 10 classes of Year 7's who came in for their orientation in the Centenary Library. Each boy left with at least one chapter book and a welcome pen and bookmark.