Skip to main content
It looks like you're using Internet Explorer 11 or older. This website works best with modern browsers such as the latest versions of Chrome, Firefox, Safari, and Edge. If you continue with this browser, you may see unexpected results.
Congratulations to the BGS Photography Competition Winners!
The theme for this year was Generations and entries were judged by Mr Stewart Service, our former BGS Head of Art and a keen photographer himself.
Middle School Winner: Elliot Morris (Year 5) Mothers and daughters – Babushka dolls representing generations of women.
Senior School Winner: Nate Stathis (Year 9) Turning back time – Capturing the joy associated with learning something new, especially when it is the younger generation teaching the older generation.
Staff Winner: Marketing and Communications Manager Chris Walker Talking with Grandad – In matching wide brim hats, great grandad and great grandson discuss life at different ends of the spectrum. Almost 90 years separate the pair.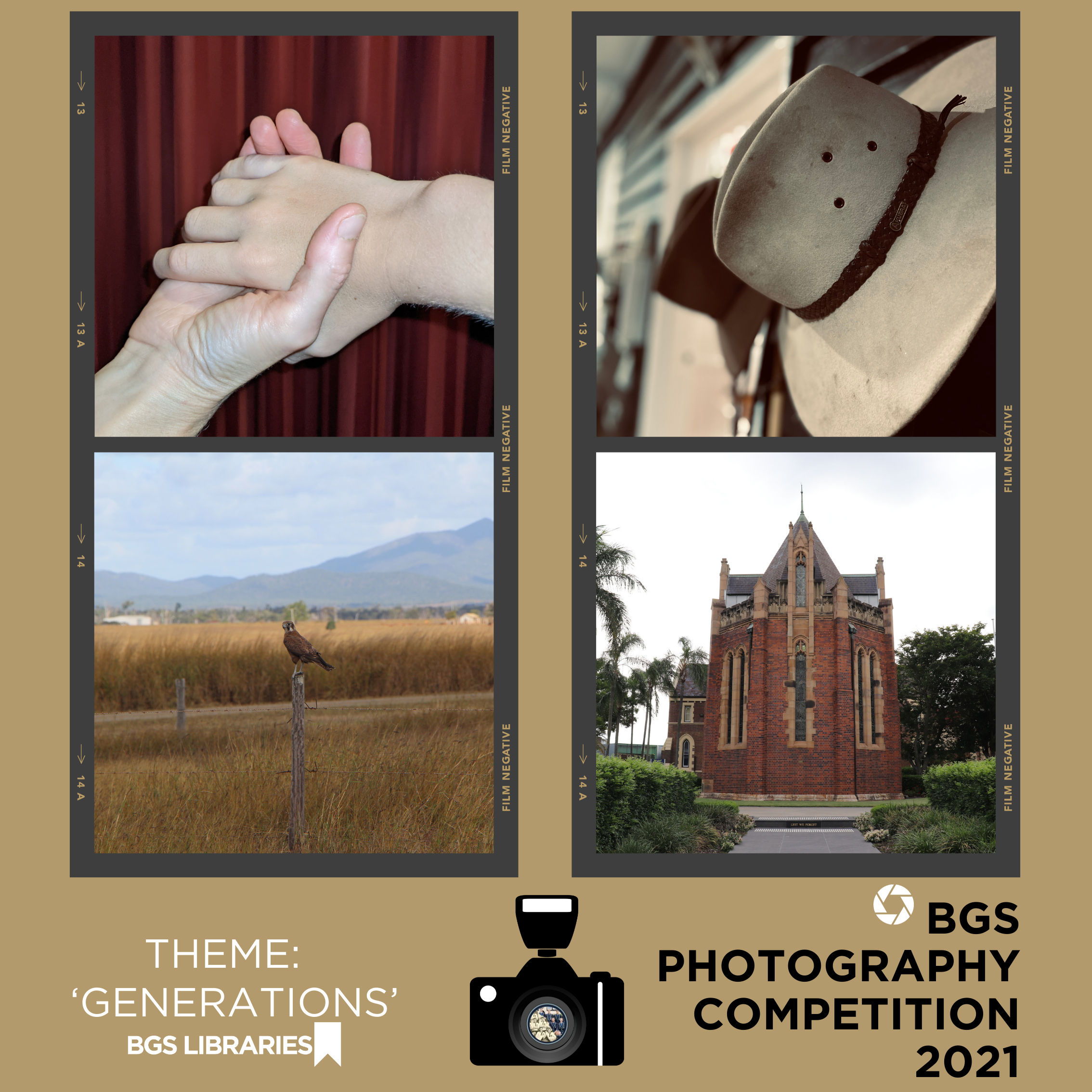 May the Fourth Be With You
Star Wars Day lasts a WEEK at BGS
Our wide collection of Star Wars books are some or the most heavily borrowed, so of course we celebrate May the Fourth with Trivia; Family Feud and Droid races!
Book Club
Book clubs have commenced in the Middle School and Centenary libraries, so come and join in the fun!
The new issue of PK Mag is here!
In this issue, dive into Dragon Legend, the second book in the bestselling 'Dragon Realm' series, with an exclusive extract!

Then, join us as we chat with Roosters star James Tedesco, all about his first book for younger readers and footy lovers, Hat Trick Teddy.

Plus we also chat with Eddie Woo, star math teacher and creator of 'WooTube', about his love of maths and brand new book in the 'Aussie STEM Stars' series.

Learn what it takes to be a journalist with our exract of Kid Reporter: The Secret to Breaking News, which will teach you how to find a scoop and do an interview.

And as always, we've got a stack of new books, activities, and things to learn and do! PLUS - poetry and book reviews. By kids, for kids!
---
Opening Hours
Middle School Library Years 5-6
7.45am - 3.45pm Monday - Friday
Closed for morning tea
Supervision times: 6.30 - 7.45; 3.45-5.30
Centenary Library Years 7-8
7.30am - 5.00pm Monday - Thursday
7.30 am - 4.30pm - Friday
Closed for morning tea
The First Few Chapters Series
Grumpy Cat Explains: Maintaining motivation to study